Carolina STYLE magazine – BEAUTY, Makeup Artist Feature
Featured Artist: Shilpa Bhalodia of Chandini's Spa & Salon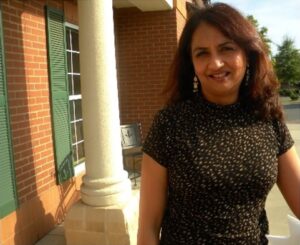 Recently I had the pleasure of speaking with Shilpa Bhalodia, owner of Chandinis, a local spa and salon in the Triangle area that specializes in eyebrow threading. A loyal customer since my first visit in 2010, I could not think of anyone more deserving of having a little spotlight shed on their growing business.
1.How did you learn the art of eyebrow threading? It looks very difficult.
It's not that easy but I've been doing it for many years. It's definitely an art. It's very common among women in India so I learned from them. The trick is to remove the hair from the root and be very precise.
2.What do you believe to be the benefit of threading over waxing?
With waxing you pull the skin. With threading, you are only removing hairs. With waxing you cannot remove just one or two hairs, for example with waxing if you want to give an arch it doesn't give you the freedom to go too deep but with threading you have full control over which hairs you remove. Threading is a lot more precise, a lot cleaner. Threading is also great if you have sensitive skin or if you are using any kind of prescription retanoids or acne medication because it is all-natural and doesn't produce any side effects.
3.What is a common mistake concerning women and their eyebrows and do you have any tips or suggestions on how to take care of them?
What I find is many women will use tweezers to remove hairs but because they are made from stainless steel, tweezers can give you ingrown hairs. It's more painful and you could pull the skin as well. With threading, you can even remove peach fuzz, you can't do that with tweezers. Also, I think it's important for women to follow the natural shape of their eyebrows, don't try to do a drastic change in the shape of your brows because it won't look quite as good.
4.Your business has expanded to facials and microdermabrasion as well. What is different about the facials Chandini's gives over your typical salon?
We are using two different products from India. Sundari and Shanaz facials which are all natural and organic. They are more of a healing treatment for long-term results using essential herbs and oils like rose petal powder and lemon peel. Our facials are perfect for sensitive skin because of the natural ingredients. We have a gold facial where we use 24 carat gold crush in the cream and it provides for a beautiful glow, it's really fun too. It smells so good! I have a really nice aesthetician who takes care of everyone, I'm so blessed.
5.What made you want to open Chandini's here in North Carolina?
Well, I've been here since 1988. I went to school here at Mitchell's Hair Styling Academy and after that I was working at Mitchell's Spa in Cary Towne Center. After I had my daughter I started to work from my basement, business picked up pretty quickly and I decided to go for it. I opened "Chandini's" which is my daughter's name and it all worked out wonderfully.
6.Business must be great! In the past two years you have added three more locations. What fueled the expansion?
I have a suggestion book that I leave at the front desk and people kept writing " Come to Raleigh! Come to Durham!" I had customers coming from all over the Triangle area just to get their eyebrows threaded in my shop. People would tell me where there were empty locations and everything. We have wonderful customers. Their encouragement and suggestions are why we have been able to grow the way we have.
7. What advice would you give to an aspiring businesswoman wanting to open a business in this industry as well?
Be a good listener. Listen to your customer. I think it is so important to give good customer service. If you take care of the customers they will take care of you. I really like to connect with my customers personally. Even if the person has a small question, I ask them to leave their name and number on the suggestion sheet and I make sure to give them a call within a couple days. Customers will give you ideas that you may not have thought of. I like to be open with them and get feedback so I know where I can improve and what I'm doing right. I really love and appreciate my customers. When I first came here I got so much help from others so I believe it is important to help others in any way that you can. This is my passion. I don't do it for the money I do it because it makes me so happy.