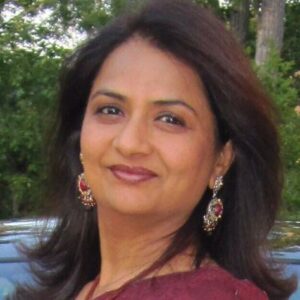 Shilpa understood the benefits of eyebrow threading – centuries old and a customary way to remove unwanted facial hair in India . Threading is painless, natural and without the side effects of chemicals. Eyebrows threading is very precise and as a result the eyebrow is better shaped.
However, she did not find anyone in the area who was skilled to perform this art of threading. Thus was born the idea of Chandni's Salon to provide a friendly and intimate atmosphere for this invaluable service.
In July 1989, Shilpa acquired her NC State cosmetologist license and started working at Mitchell's Hair Styling Salon. In July 1990 she decided to go on her own and started operating from the basement of her home. The intent was to provide a friendly and private atmosphere for her clients. Shilpa has since extended her services to include facials, body massages, hair cuts, tinting, and waxing. Shilpa is dedicated to her clients and nothing pleases her more than delighted and satisfied clients.
By 2010, eyebrow threading was becoming very popular and demand from her clientel based in Raleigh , Chandni's added a brand new facility to provide exclusive threading services. Triangle Eyebrow Threading is conveniently located a mile from the Crabtree Valley Mall at the Creedmoor Shopping Ctr. (intersection of Creedmoor and Millbrook).
Shilpa is a graduate of Mitchell's Hair Styling Academy and has also received a Bachelor of Arts degree.
She has worked on numerous beauty shows around the triangle area including 2005 Southern Women's show in Raleigh and as Lancome makeup artist. She has been interviewed by major local news papers such has "The News & Observer", "Cary News", "The Apex Herald", and "Carolina STYLE" magazine.